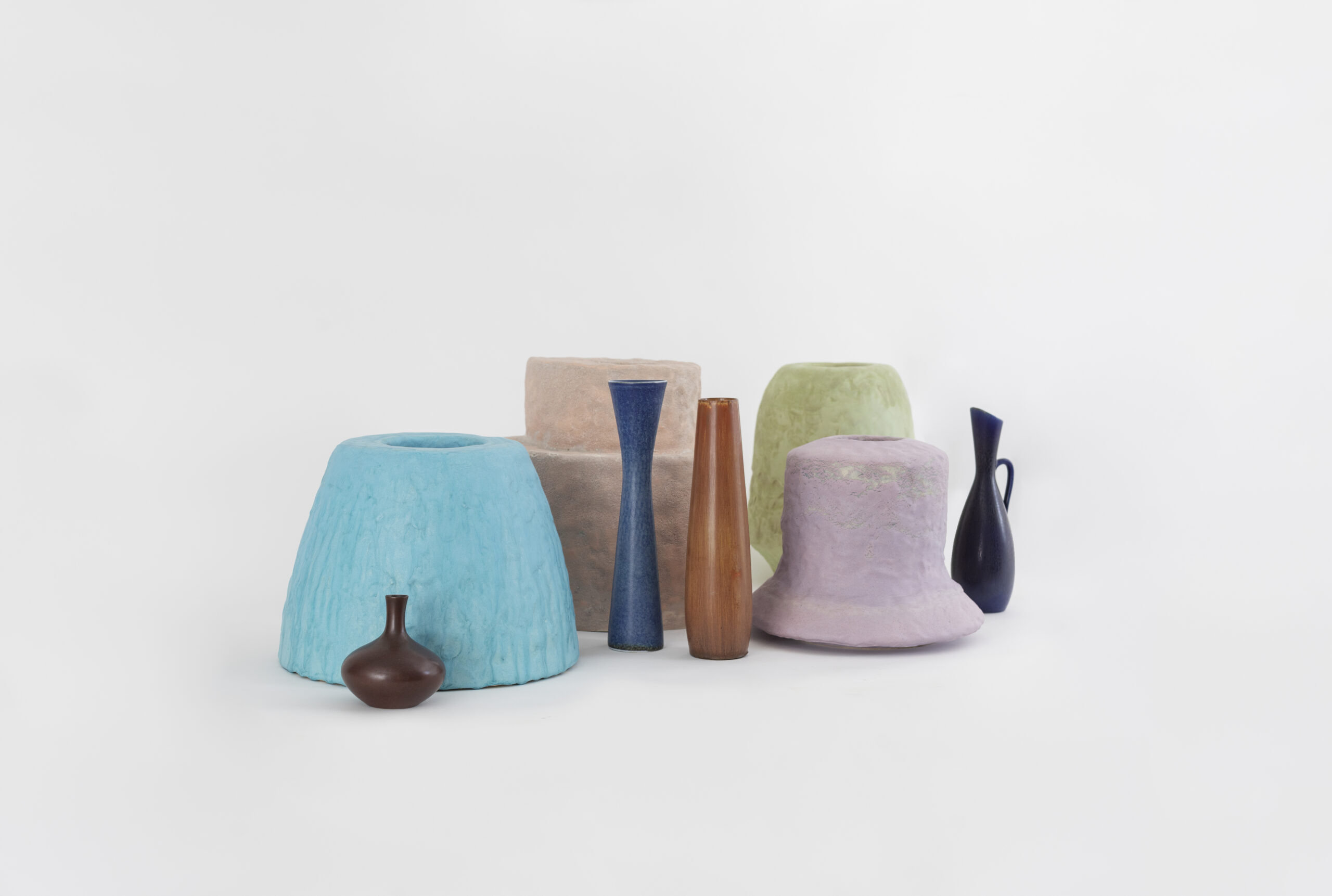 Carl-Harry Stålhane, vaser, stoneware, 1950s. Photo: Clare Gatto.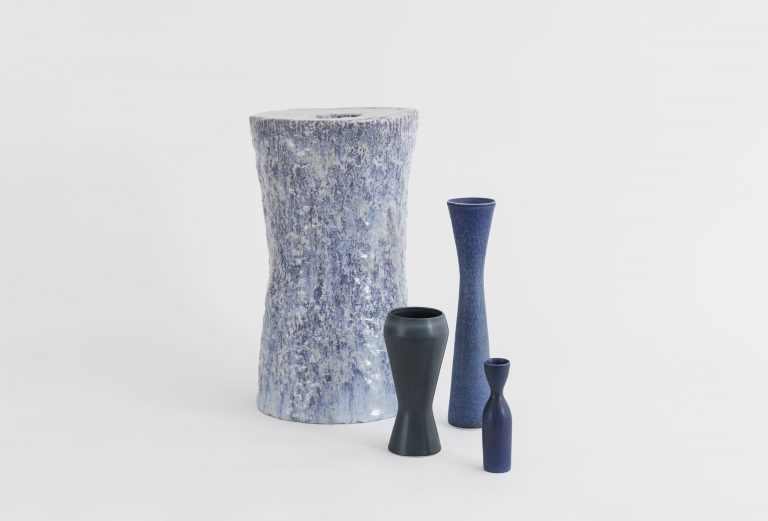 Carl-Harry Stålhane, vaser, stoneware, 1950s. Photo: Clare Gatto.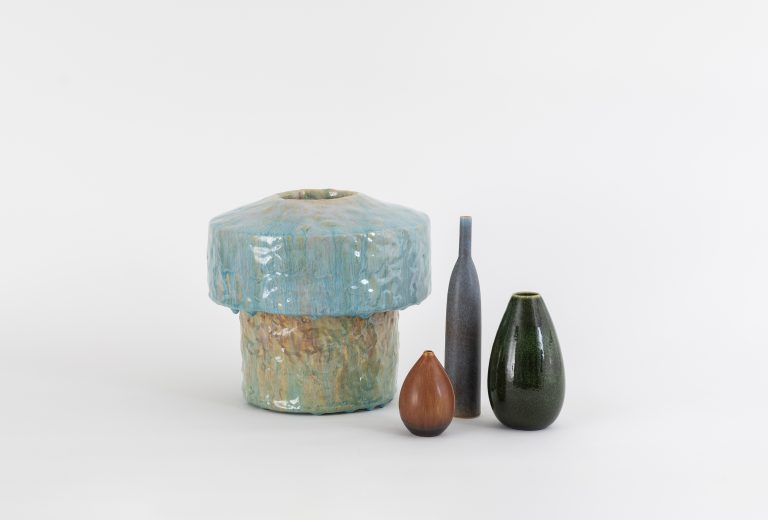 Carl-Harry Stålhane, vaser, stoneware, 1950s. Photo: Clare Gatto.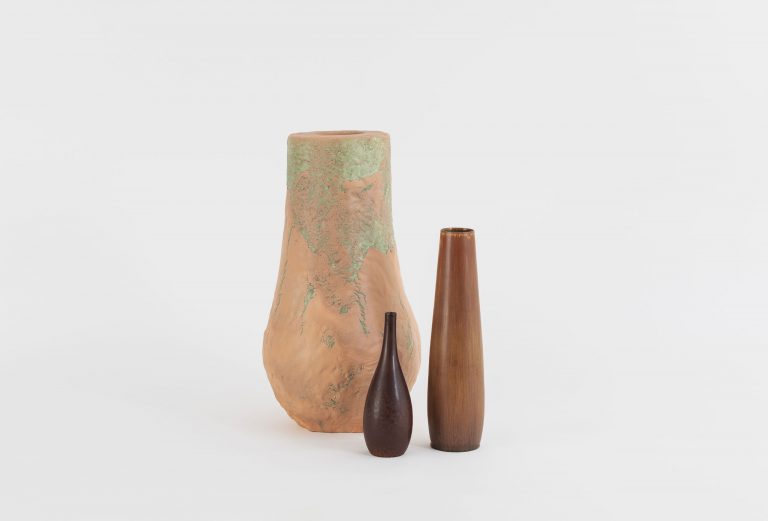 Carl-Harry Stålhane, vaser, stoneware, 1950s. Photo: Clare Gatto.
The pieces have been the inspiration for a new series of work, which Anders Ruhwald calls Glasur Stykker. In the exhibition thirty of Ander Ruhwald's Glasur Stykker are exhibited alongside around sixty Stålhane pieces.
Ceramicist Anders Ruhwald was born and brought up in Denmark but has been working in the USA for many years. Since his breakthrough in the early 2000s he's produced a substantial amount of sculptures and installations, with glazed earthenware his primary medium. He often starts from domestic items and settings, and in several larger exhibition projects has created place specific work for historic buildings. A recurring theme in this project has been how forms and experiences from the past resonate and are met in the present, and how this encounter with history can be physically shaped in the production of new artwork.
Stålhanes pjäser kommer både från Anders Ruhwalds samling och andra privata samlingar och från Rörstrand Museum. The exhibition is produced by Rian design museum in conjunction with Rörstrand Museum and the Lidköping Porcelain Festival. A multilingual exhibition catalogue is available with texts by, among others, Martina Margetts, senior tutor at the Royal College of Art in London and former Editor of Crafts magazine, and Shelley Selim, curator at Indianapolis Museum of Art.
Anders Ruhwald (b. 1974), is one of the most internationally well-established ceramicists of his generation and his work can be found in around 25 museum collections in Europe, the USA and Asia. In Sweden he is represented in the Nationalmuseum, Röhsska Museum and the Public Art Agency Sweden's collections. Bland hans större utställningar finns The Anatomy of a Home: Saarinen House (Cranbrook Art Museum, USA 2013), The Body, The Mind, This Constructed World (Casa Museo Jorn, Italien 2018) och Century Garden (Indianapolis Museum of Art, USA 2020).
Carl-Harry Stålhane (1920-1990) was associated with Rörstrand from 1939-1973 and functioned for most of that period as the factory's leading artist. He was instrumental in both the design of tableware and a substantial studio production of stoneware, as well as monumental wall reliefs for public spaces. From 1973 he worked in his own studio, Designhuset, which he founded and ran with former colleagues from Rörstrand. During the Rörstrand period, he often exhibited internationally and is represented in around fifteen museum collections in Europe and the USA. He is to this day recognised internationally as one of the foremost modernist Swedish ceramicists.